Refill Deliveries
Zero waste shopping from the comfort of your home

Place your plastic free order online through our website
Leave your bag of empty containers outside your door ready to be refilled

Earthkind will come round and refill your containers!
What Are Refill Deliveries?
Our Refill Delivery service provides you with plastic free deliveries to your door. It's a convenient and easy way to make waste free changes to the way you shop. Your shopping will be delivered as refills, so you'll need to leave some clean and empty containers out for us to fill.
The Refill Delivery service takes place every Wednesday and is available to the following Plymouth postcodes:
PL1, PL2, PL3, PL4, PL5, PL6, PL7, PL8, PL9 & PL21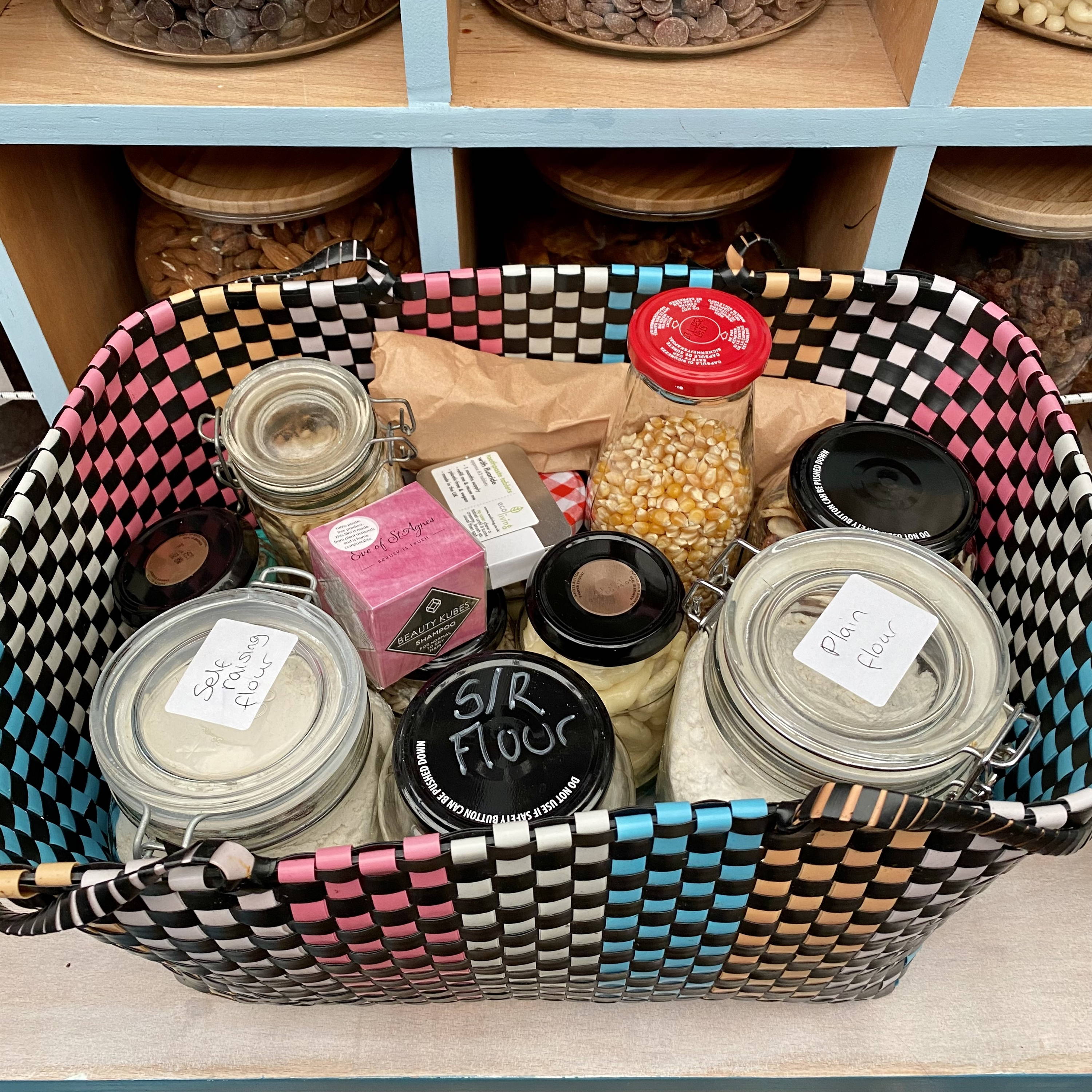 Orders need to be placed by 7pm on Tuesday''s (the evening before delivery) and your clean, empty and labelled containers will need to be placed outside your door (or in your designated secure area) by 9am on Wednesday morning ready to be refilled.
Ordering Tips:
Use our online shop to select which products you would like refilled.
You can choose from our pre-selected weights, or simply request to 'refill my container'.
If selecting 'Refill My Container' you will be charged a deposit of 100g per product at checkout. Once we have refilled and weighed your containers, you will be invoiced for the outstanding amount. Please note, payment must be made before we return your containers.
Top Tip:
Liquid Refills are only available on a 'Refill my container' system, however if you do not want your container filled to the top, leave a mark or line on your container to let us know where to stop!


There is a £10 minimum spend for this service and a £2 delivery fee. Delivery is free for members of the Earthkind Refill Club.
Where should I leave my containers?
Please leave your empty containers on your doorstep or other designated safe place. If leaving elsewhere to your doorstep, please let us know beforehand. Where possible, please leave your empty bottles and containers in a waterproof bag or box.
No problem, the refill deliveries are ran as a no-contact delivery, therefore you do not need to be present. Please note, we may occassionally need to call or email you about your order if we have a query, so it is helpful if you leave us details you will be reachable on.
I forgot something, can I add to my order?
Yes of course! Just leave out an extra clean and labelled jar and we will fill it and charge with the others.
What happens if it is raining?
It is your responsibility to leave your containers in a dry and suitable place, or waterproof box/bag. Earthkind cannot take any responsibility for damaged products once returned to your safe place. In the summer, we recommend leaving in a cool box - especially if ordering chocolate!
What if my containers are too small?
If you have ordered specific quantities of product, and it overflows the container you have provided, we will put the remaining amount in a paper bag for you.
What does 'Refill My Container' mean?
The 'Refill My Container' option has been designed to make plastic free shopping easier for you. If you have a container that you would like filled, but not sure how much you need to order to fill it, this is the option for you. You will be charged for the full amount once we have filled and weighed your container. If you provide us with an unusually large or small container for the product ordered, we may contact you before filling to confirm if time allows.
I have another question not answered, how can I contact you?
Please feel free to get in touch via email, Facebook or Instagram and we will get back to you as soon as we can.